Group Overview
Vision and Values
Corporate Governance
Leadership
Milestones
About Us
Group Overview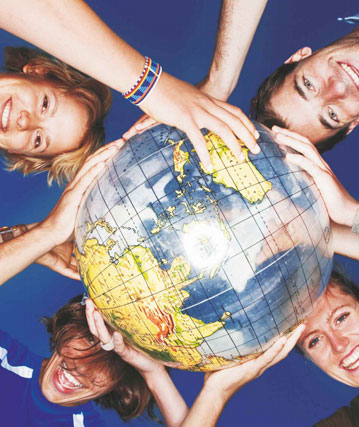 Founded in 1976, by Sunil Bharti Mittal, Bharti has grown from being a manufacturer of bicycle parts to one of the largest and most respected business groups in India. With its entrepreneurial spirit and passion to undertake business projects that are transformational in nature, Bharti has created world-class businesses in telecom, insurance, and foods.
Bharti started its telecom services business by launching mobile services in Delhi (India) in 1995. Since then there has been no looking back and Bharti Airtel, the group's flagship company, has emerged as one of the top telecom companies in the world and is amongst the top three wireless operators in the world.
Bharti Airtel has operations in *17 countries across Asia and Africa– India, Sri Lanka, Bangladesh, Seychelles, Chad, Congo Brazzaville, Democratic Republic of Congo, Gabon, Kenya, Madagascar, Malawi, Niger, Nigeria, Rwanda, Tanzania, Uganda, and Zambia.
Over the past few years, Bharti has diversified into emerging business areas in the fast expanding Indian economy. The group offers – life insurance and general insurance to customers across India. Bharti also serves customers through its fresh and processed foods business. The group has growing interests in other areas such as mobile internet, real estate, training and capacity building, and distribution of telecom / IT products.
What sets Bharti apart from the rest is its ability to forge strong partnerships. Over the years some of biggest names in international business have partnered Bharti. Currently, Singtel, IBM, Ericsson, Nokia Siemens and Alcatel-Lucent are key partners in telecom. AXA Group is the partner for the insurance business and Del Monte Pacific for the processed foods division.
Bharti strongly believes in giving back to the society. Its philanthropic arm, the Bharti Foundation is reaching out to approx. 2,70,000 students, engaging over 12,000 teachers across 16 Indian states through its initiatives in the education sector. The Foundation is also involved in supporting sanitation and hygiene awareness initiative. Its sanitation initiative, the 'Satya Bharti Abhiyan' is benefitting close to 2,00,000 individuals in Punjab's Ludhiana and Amritsar District.
(*JV entities)
Our vision

Building a brighter tomorrow by:

Always empowering and backing our people.
Being loved and admired by our customers and respected by our partners.
Transforming millions of lives and making a positive impact on society.
Being brave and unbounded in realizing our dreams.
Our values
Empowerment

We respect the opinions and decisions of others. We encourage and back people to do their best.

Entrepreneurship

We always strive to change the status quo. We innovate with new ideas and energise with a strong passion and entrepreneurial spirit.

Transparency

We believe we must work with honesty, trust and the innate desire to do good.

Impact

We are driven by the desire to create a meaningful difference in society.

Flexibility

We are ever willing to learn and adapt to the environment, our partners and the customers' evolving needs.
Corporate Governance
Bharti Enterprises Limited (including its group and Joint Venture companies) firmly believes in the principles of Corporate Governance and is committed to ensure sustainable, capital-efficient and long-term growth thereby maximizing shareholder value. The company's commitment towards compliance to the highest governance standard is backed by an independent and fully informed board, comprehensive processes, policies and communication. The Company ensures that various disclosure requirements are complied with in 'letter and spirit' for effective Corporate Governance.
We adhere to the highest levels of ethical business practices as articulated by our Code of Conduct so as to achieve our performance with integrity. Read the Bharti Code of Conduct here
Office of the Ombudsperson
The Ombudsperson Office provides an independent forum and vigil mechanism under the law for all employees and other stakeholders of the company to raise concerns and report any breach or threatened violation of the code. As required under the listing agreement and the Companies Act 2013 and rules, it reports to the audit committee of the Board and is authorized to investigate complaints suo moto on the basis of information filed with the Ombudsperson Office.
Any stakeholder (employee, associate, strategic partner, vendor) who observes unprofessional behavior can approach the Ombudsperson Office to voice his or her concerns. The complainant may be either an observer who is not directly impacted, or a victim who is directly or indirectly affected by such practices.
The Office aims to provide a fair and equitable redressal mechanism. The process is designed to offer protection to the complainant provided the disclosure is made in good faith and the alleged action constitutes a genuine and serious breach of Bharti Code of Conduct. The Ombudsperson will treat all disclosures in a confidential and sensitive manner.
A person can raise a concern, either verbally or in writing by giving background of the unprofessional conduct, reasons for raising the concern, the identity of the individuals who may be involved and documentary evidence, wherever available.
Complaints may be sent in either of these forms:
In writing (through hard copy mail) to:

The Ombudsperson
Bharti Enterprises Ltd.
Bharti Crescent
1, Nelson Mandela Road
Vasant Kunj, Phase II
New Delhi – 110 070
India

In writing (through email) to a secure
email id, ombudsperson@bharti.in

To read the full Bharti Code of Conduct,
please Click here.
Milestones
2019

Airtel Africa lists on the London Stock Exchange and on the Nigerian Stock Exchange

2019

2018

MERGER OF BHARTI INFRATEL AND INDUS TOWERS: CREATING A LISTED PAN-INDIA TOWER COMPANY

2018

2017

Bharti Airtel signs agreement to acquire Millicom's operations in Rwanda

Bharti Family pledges 10% of their wealth (approx. Rs 7000 crores) towards Philanthropy

Shri Arun Jaitley, Hon'ble Union Minster of Finance and Corporate Affairs formally launches Airtel Payments Bank's national operations

Tata and Bharti to Combine Consumer Telecom Business

Airtel launches 'Internet TV' for Digital Homes

Bharti Airtel acquires Tikona Networks' 4G Business

Bharti Airtel acquires Telenor India

Wynk Music crosses 50 million users milestone

Bharti Airtel and Millicom sign agreement to combine operations in Ghana

2017

2016

India's first Payments Bank goes LIVE – Airtel Payments Bank starts pilot services in Rajasthan

Bharti Airtel Tops Transparency International's Corporate Reporting and Transparency listing of top 100 Emerging Market MNCs

In an industry first, Airtel announces self-regulation on Quality of Service

2016

2015

Bharti Enterprises launches initiative to provide legal and financial assistance including awareness to underprivileged undertrials

Airtel now becomes the third largest mobile operator in the world

Bharti joins OneWeb's mission to build a new global communications system to provide affordable Internet access for all

SoftBank, Bharti and Foxconn to Form Joint Venture for Renewable Energy in India

Future Retail and Bharti Retail Announce the Merger of their Retail Businesses

2015

2014

Airtel crosses 200 million mobile customer mark in India

Airtel launches its first 4G service in Africa

Airtel Seychelles amongst Africa's first state-of-the-art FD-LTE networks to deliver best-in-class wireless broadband experience

2014

2013

Bharti Airtel hives of Data Centre and Managed Services (DCMS) business to create a wholly-owned subsidiary Nxtra Data Limited

Airtel acquires Warid's Uganda Operations

Bharti Airtel announces long-term strategic investment from Qatar Foundation Endowment

Airtel acquires Warid's Congo Brazzaville Operations

2013

2012

Airtel launches India's first 4G service in Kolkata

Airtel launches mobile services in Rwanda

Bharti Airtel becomes the fourth largest mobile operator in the world

Bharti Airtel crosses 200 million customer (mobile, fixed line & DTH) milestone in India

Bharti and Qualcomm announce partnership for 4G

2012

2011

Airtel launches 3G service in India

Airtel crosses 50 million customers mark in Africa

2011

2010

Bharti Airtel unveils new youthful and dynamic global identity – 'airtel'

Bharti Airtel acquires 70% stake in Warid Telecom, Bangladesh.

Bharti Airtel acquires the mobile operations of Zain in 15 African countries. Becomes the fifth largest mobile operator in the world.

2010

2009

Bharti Airtel launches its services in Sri Lanka (2G/3G network).

Bharti Foundation sets up Bharti Centre for Communication in partnership with Indian Institute of Technology, Mumbai.

Bharti Airtel and Alcatel-Lucent form JV to manage Bharti Airtel's pan-India Broadband and Telephone services.

Bharti Walmart launches first Cash & Carry Store under Best Price Modern Wholesale brand.

Bharti Telesoft renamed 'Comviva.'

Bharti Airtel launches iPTV service; Digital TV interactive.

Bharti Airtel crosses the 100 million telecom customers mark.

2009

2008

Bharti launches its first set of retail stores in Ludhiana under the 'easy day' brand.

Bharti crosses 60 million telecom customers landmark.

Bharti launches services in Guernsey, Channel Islands.

Eight leading international leading PE funds pick up stake worth $1.25 billion in Bharti Infratel – Bharti's tower infrastructure company.

2008

2007

Bharti becomes the fastest private telecom company in the world to cross the 50 million mark. Enters the league of top 5 mobile companies in the world.

Bharti launches Mobile Money Transfer pilot project in India in partnership with GSMA.

Bharti outlines strategic roadmap for its Retail venture. Commits investment of up to US $ 2 to 2.5 billion by 2015.

Bharti joins hands with Idea and Vodafone to form Indus Towers – an independent tower infrastructure company.

Bharti and Wal-Mart Stores, Inc. form a joint venture Bharti Wal-Mart Private Limited, for wholesale cash-and-carry and back-end supply chain management operations in India.

Bharti brings in Del Monte as a strategic partner in FieldFresh to enhance focus in the processed food segment.

Bharti makes its European debut. Launches mobile services in Jersey, Channel Islands.

Bharti Teletech manufactures its 20 millionth telephone.

Bharti received licence to offer Direct to Home (DTH) Satellite TV services in India.

Jersey Airtel launches services, brings a range Of innovative products and services to customers in Jersey under Airtel-Vodafone brand.

Sunil Bharti Mittal conferred Padma Bhushan, one of India's highest civilian honours.

Bharti and AXA form joint ventures to launch General Insurance and Asset Management services in India.

Bharti wins licence to offer mobile services in Sri Lanka.

Bharti Telesoft acquires Jatayu Software.

2007

2006

Bharti and Wal-Mart sign Memorandum of Understanding to jointly explore Retail opportunities in India.

Bharti becomes the first Indian telecom operator to launch 3G services, starts 3G operations in Seychelles.

Bharti wins mobile service provider licence in Jersey and Guernsey, Channel Islands, Europe.

Bharti Axa Life Insurance launches national operations.

Bharti and its Associates commit a corpus of Rs 200 crores to Bharti Foundation to provide education to underprivileged children in villages across India.

Bharti Televentures rechristened as Bharti Airtel.

2006

2005

Bharti becomes India's first mobile service provider to complete a national footprint in all 23 telecom circles.

Vodafone picks up 10% equity interest in Bharti for $1.5 billion, making it the single largest foreign investment in the country.

Bharti continues to build on its successful business model based on outsourcing. Enters into agreement with four global BPOs - Hinduja TMT, IBM-Daksh, Mphasis & Teletech Services - and Nortel to provide world-class customer care services.

Bharti marks its foray into financial services. Forms joint venture with AXA of France to offer life insurance products.

Bharti and IBM announce a Joint Go to Market program to offer managed services in India.

WestBridge Capital Partners, Sequoia Capital and Cisco Systems pick up 10% stake in Bharti Telesoft.

2005

2004

Bharti, in a first in the telecom industry, signs a 10 year comprehensive IT outsourcing deal with IBM.

Bharti heralds a new paradigm in telecom, outsources mobile network to Ericsson and Nokia in mutli-million dollar managed networks deals.

Bharti clocks revenues in excess of a billion dollars annually. Registers profits in excess of $150 million.

Bharti & Rothschild form a 50:50 JV – FieldFresh- for linking India's farms to the world.

Bharti launches mobile services in Uttar Pradesh (East), West Bengal, Jammu & Kashmir and Orissa.

Airtel exclusively brings globally acclaimed Blackberry to India.

Bharti Televentures unveils a unified branding strategy for all telecom services with Airtel as the flagship brand.

2004

2003

Bharti enters the business outsourcing segment. Forms Teletech Services Ltd in partnership with Teletech Holdings (USA).

Airtel becomes India's largest GPRS network.

2003

2002

Bharti goes public, completes India's first 100% book building issue and gets listed on the National stock Exchange, Bombay Stock Exchange and the Delhi Stock Exchange on February 18, 2002.

Bharti launches mobile services in Gujarat, Haryana, Kerala, Madhya Pradesh circle, Maharashtra, Mumbai, Punjab, Tamil Nadu, Uttar Pradesh (West).

Bharti enters into a license agreement with the DoT to provide International Long Distance services in India. Becomes India's first private telecommunications services provider to launch International Long Distance services.

Bharti launched fixed-line services in the Delhi, Haryana, Karnataka and Tamil Nadu.

2002

2001

Bharti wins mobile service provider licences in 8 circles and fixed-line service provider licences in 4 circles. Bharti's mobile service provider licence in Punjab is restored.

Bharti acquires Spice Cell and enters the Kolkata circle.

Bharti Telesonic launches National Long Distance services under the 'IndiaOne' brand.

Bharti launched "Touch Tel" its fixed line service brand, launches fixed line services in Haryana.

Forms joint venture with SingTel for a submarine cable landing station between India and Singapore.

SingTel, Warburg Pincus, AIF, IFC, NYLIFand Seejay Cellular make equity investments of approximately US$ 481.30million in Bharti Tele-Ventures and through Bharti Telecom.

Bharti acquires British Telecom's equity interests in Bharti Cellular, Bharti BT and Bharti BT Internet.

Bharti acquires three additional ISP licenses.

Bharti Telesonic enters into a license agreement with DoT to provide national long distance services across India.

2001

2000

Bharti and Singtel, Asia's leading telco, form strategic partnership. Singtel invests $ 400 million in Bharti.

New York Life International acquires a 3% equity interest in Bharti Cellular.

Bharti acquires majority stake in SkyCell, establishes presence in the Chennai circle.

Bharti and Singtel announce a $650 million partnership for undersea optic fibre cable between India and Singapore.

Bharti and Singtel form Bharti Telesonic to operate and manage National Long Distance operations.

Mantra Online launches India's first International Satellite Gateway.

2000

1999

Warburg Pincus, a leading international private equity investor, picks up stake in Bharti Tele-Ventures.

Bharti acquires a controlling stake in JT Mobiles, established footprint in the states of Andhra Pradesh and Karnataka.

Bharti BT Internet launches ISP services in Delhi, Mumbai and Bangalore under the 'Mantra online' brand.

Airtel launches fixed line services in Raipur and Jabalpur in the state of Madhya Pradesh.

1999

1998

Bharti becomes the first Indian company to offer telecom services in international markets. Launches mobile services in Seychelles.

Bharti launches India's first private fixed line service in Indore, Madhya Pradesh.

British Telecom consolidates its equity interest in Bharti Cellular to 44%.

Bharti BT Internet, a joint venture of Bharti Telecom and British Telecom, formed for providing ISP services.

Bharti commissions India's first private sector transmission network between Bhopal and Indore.

1998

1997

British Telecom acquires equity interest in Bharti Cellular.

Airtel becomes the first mobile service provider in the country to cross the 100,000 customers mark.

Bharti gets licence to provide comprehensive telecom services in Seychelles.

Bharti wins fixed-line service provider licence for Madhya Pradesh. Becomes the first private company in India to win a fixed-line licence.

Bharti Telecom and British Telecom form joint venture - Bharti BT Ltd. – for offering VSAT services.

Bharti-Duraline commences operations. Becomes the first company in India to manufacture HDPE Silicore Ducts.

Bharti Telecom emerges as the largest manufacturer of telephones in India with a capacity of 200,000 units.

1997

1996

Airtel launched mobile services in the state of Himachal Pradesh, the first by any private telco.

Telecom Italia acquires 20% equity interest in Bharti Tele-Ventures.

Bharti Telenet bids for fixed line licence in the state of Madhya Pradesh.

Bharti forays into manufacture of HDPE Silicore ducts. Forms a joint venture with Dura-Line Corp, USA.

1996

1995

Bharti launches Delhi's first GSM mobile services under the Airtel brand.

Forms consortium with Telecom Italia to bid for cellular and fixed-line services under Bharti Telenet.

Bharti joins forces with Siemens to market telephone terminals under SIEMENS and BEETEL brand names.

Bharti Tele-Ventures is incorporated.

1995

1994

Bharti wins GSM mobile service provider licence for Delhi NCR.

Bharti Telecom's Ludhiana factory gets ISO 9002 accreditation.

1994

1993

Bharti Telecom's Gurgaon factory becomes the first manufacturer of push button phones to be awarded ISO 9002 accreditation.

Bharti provides technical assistance to Uganda for manufacture of push button phones.

1993

1992

Bharti Cellular Ltd. is born. Bharti forms a consortium with SFR-France, Emtel-Mauritius and MSI-UK, to bid for mobile service provider licenses in Indian metros.

1992

1991

Bharti Telecom's products reach international markets. Company signs OEM contract with Sprint, USA for manufacture and export of telephone sets.

1991

1990

Bharti ties-up with Lucky Gold Star, South Korea to become the first company in India to manufacture cordless telephones.

1990

1989

Bharti ties-up with Takacom Corporation, Japan to become the first company in India to manufacture telephone answering machines.

1989

1985-88

Bharti makes it entry into the telecom sector with Bharti Telecom. Enters into a technical tie-up with Siemens AG of Germany and becomes the first company in India to manufacture electronic push button telephones in Gurgaon.

Bharti Telecom's Ludhiana factory commences operations for manufacturing push button phones.

Bharti also makes an entry into India's pharma sector with Bharti Healthcare, which manufactures empty hard gelatin capsules.

1985-88

1980-84

Bharti Overseas Trading Corporation set up. Bharti imports and markets stainless steel products, brass and plastic products, and zip fastners etc.

Bharti ties up with Suzuki, Japan to import and distribute portable gensets. By 1984 Bharti is the largest importer of portable gensets in India.

1980-84

1976-79

Bharti Enterprises founded by Sunil Bharti Mittal.

Starts as a small scale manufacturing unit for bicycle components. Diversifies into production of yarn, stainless steel sheets for surgical utensils.

1976-79